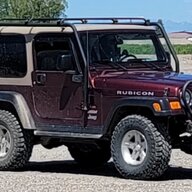 TJ Enthusiast
Supporting Member
Joined

Apr 15, 2019
Messages

735
Location
. All this over a hi jack?! You, as a person, are far more valuable than such a stupid conversation.

Now for an English vocabulary lesson.

If I say, "you could go to the store," that is no moral judgement.

If I say, "you would go to the store," that is no moral judgement.

But if I say, "you should go to the store," some consequence is implied if you don't. I.e. I have elevated the statement to a moral issue, whether it really is or not.

should

/SHo͝od,SHəd/

verb

1. used to indicate obligation, duty, or correctness, typically when criticizing someone's actions.

EDIT: oh, I still "think" hi jacks are not good, but you are entitled to think they are great and use them all you like and I won't think anything bad about you or your hi jack. And nobody calls me chicken!
Love the Marty McFly reference!!!
And yes we are all entitled to our opinions. On that we do agree. And since you have spelled out grammatically how my phrase implied moral judgement, I can assure you that it is not meant to be a judgement.
Last edited: