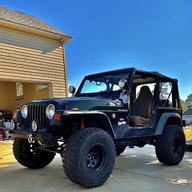 Joined

May 19, 2018
Messages

330
Location
So, just out of boredom and curiosity (and I've had a few beers
), I want some insight into why people dislike Skyjacker lifts for our Jeeps, as more of an entry lift kit. Not a super duper off-roader, but for the average guy with half a grand to spend on a lift because he wants 33-35 in tires and to hit some decently challenging trails and it's his DD.
I bought my kit in '09. It was like just shy of 600 bucks from Quadratec (another topic to discuss, but that's for another thread). I installed in a car port in the middle of summer and used ratchet straps to get the transmission skid plate to realign with the holes in the frame after the drop bars went in. Also, the front track bar requires measuring and drilling on the OEM mount on the front axle. Our measuring must have been sufficient because I've had it over 80 multiple times. I used to travel from NC to CT twice a year for about 3 years.
I have never experienced death wobble. I have never had flex issues (I have recently been enlightened on the lack of flex with tubular control arms. Totally makes sense and I can see getting more flex with this kit with better arms) and my ride has always been ... like a Jeep. Stiff especially with a lift. Yet I see Skyjacker getting a bad wrap from several threads here on the TJ Forum. My question is simply, why? For 600 bucks I have had the time of my life in the woods, never broken anything, cleared MANY obstacles that amazed some people with beefier Jeeps, and the only issue I have is I need new control arm bushings.
Thanks for the conversation
Sent from my iPhone using Tapatalk