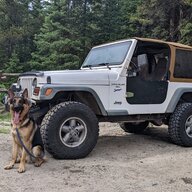 Branch Manager
Supporting Member
Joined

Dec 14, 2020
Messages

1,217
Location
As Black said it might still be a bit deep. I'm going to go back and adjust it again. The other thing is that I need to find a better way to load the gear to get a better pattern.

This video while VERY monotone does a good job explaining the contact pattern.

Lucky for me the pinion seal isn't installed into the housing instead it's installed in this piece that screws into the housing. So I won't ruin the seal taking it back out.

View attachment 304758

I got a head of myself and should have looked at that pattern better.

And Carl sent this information over. I'm trying to get the competition contact pattern.

View attachment 304759 View attachment 304760 View attachment 304762

As I said earlier it's been over 12 years since I've done gears. And while you don't lose the knowledge if you aren't doing it often your get rusty. So on Thursday I'll get back at it and make some adjustments.
Wow! That video was awesome. That answered a lot of my questions lol. And yeah I had "depth" in my mind being the wrong direction, that cleared a lot up. He makes it look easy.
But when he is adjusting the pinion depth, for you you have to remove everything and insert shims and reset and that's why it takes forever?
That's nice the seal can be reused... at least one thing you don't have to sit and wait for a part for