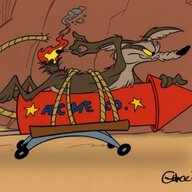 The Church of Cutting Brakes of Atlas-Front Digs
Supporting Member
Ride of the Month Winner
Joined

Jul 26, 2019
Messages

3,215
Location
YAHOO, the clear is laid down... OK well on one side. I've got a few runs to deal with tomorrow morning but I'm fairly happy with how things have tunred out.

I got both fenders done and the backing for the Savvy skids done.

View attachment 360038 View attachment 360039 View attachment 360040 View attachment 360041 View attachment 360042

And my problem fender looks good too.

View attachment 360043 View attachment 360044

I'll let them dry tonight then flip them over and finish this. Then I can move on. I'm going to take a break from painting for a little bit and get the engine and drivetrain installed. Then I can fab up the fuel lines and layout the wiring harness. I'm hoping I can fire off the engine before I install the axles but get things ready for that. So I might actually see some real progress here in the next few weeks.
That's gonna looks awesome Rick, I love when armor is all paint matched, unless it's yellow then you should paint the armor anything but color match. So clean.