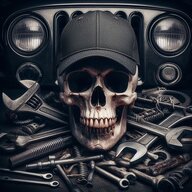 Where to next?
Supporting Member
Ride of the Month Winner
Joined

Jan 17, 2020
Messages

45,209
Location
Ryan said he could get a Wilson on Amazon. And it was similar to the one I got.

I know the HF one isn't a heavy duty vise but it won't see a lot of heavy work. And if I sell this place soon I'd hate to leave a nice vise here.
$419 when I bought mine on Amazon. USA made at the time and I believe they still are even though that link I had above says Taiwan.
Wilton 63200/1755 Tradesman Vise
https://www.amazon.com/dp/B00004XPVH/?tag=wranglerorg-20