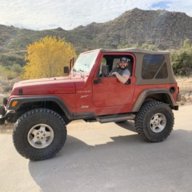 Joined

Jan 8, 2019
Messages

217
Location
Just throwing this out for discussion, I would love to hear all of your insights.

To me, just seeing old CJs, even ones as new as the CJ-7s, which was made from 1976-1986, I instantly think of them as classics.
CJ-7s are now 33-43 years old. When the oldest TJ is 33 years old it will be the year 2029 (10 years from now!).

Will we consider them "classics" at that time, in a similar way that we consider CJs as classic vehicles today?
FWIW: Wikipedia says "Cars 20 years and older typically fall into the classic class".

More thoughts: Will the prices of a clean condition TJ in 10 - 20 years, reflect the price of a clean and restored CJ in today's market?
Some of those restored CJs go for a good amount of $$$ today.

Thoughts?