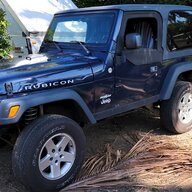 Joined

Dec 13, 2022
Messages

20
Location
Standard nylon webbing isn't doing a thing to protect a rope from the rocks. We already addressed that.
Most recovery experts
including Warn
would disagree with that. I debated steel wire vs. synthetic rope with recovery experts for 18 months before throwing in the towel and going to synthetic rope.
You underestimate the protective sleeve and way over estimate the resilience of the rope fibers.
I did two recoveries using a snatch ring without the protective sleeve between the soft shackle and ring and there were number fibers frayed. I did 4 with a new SS, this time using the protective sleeve and there was zero frayed fibers.
I carry a 3x4' outdoor matt, rubber floor mats, and a smaller outdoor mat. Those are mostly used when doing repairs on the trail, but sometimes to protect the winch rope.