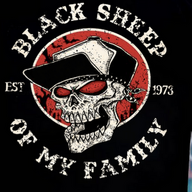 I'm a new world samurai, and a redneck nonetheless
Supporting Member
Joined

Sep 28, 2018
Messages

762
Location
This is our third year doing a January trip to East TN and the third year that we got snow. This year we headed to Windrock for our annual "Freeze Fest". Left Memphis on a warm sunny Thursday morning, got to Nashville and had lunch with my nephew and then the weather drastically changed as I headed East from there. In Lebanon TN I pulled in for gas (luckily) and while pumping it started to pour rain and then it turned to pea and grape size hail for about 10 min straight.
Luckily I was under the gas station awning when it was hailing.
Fri was supposed to be cold and sunny. It started with a drizzle, then sleet, and then eventually snow. Everything was slick and muddy but it was a great time and much better than working on a Friday.
We did Trail 22 to 21 to 15. At the top of 15 we had a driveshaft break, luckily it was at the last step at the top and it was the last Rig in line. With how slick everything was all day we decided to hit a few "easier" trails after dinner and took Trail 16 where it started to snow pretty good. At the top of Trail 16 (which gains some elevation) it was snowing and sticking. While we were out playing in the snow, Knoxville Driveline stayed open late and hooked up Scott with a new driveshaft!!
Trail 16 and G1
Saturday morning we headed straight to Walden Ridge to start the day. The base of the mountain had a dusting of snow but as you drove up the mountain there was more and more snow on the ground. Later in the day we were up on Trail 50 and there was about 2" of snow, pretty nice and scenic views from up there.
Walden Ridge is a rather long trail with the first section being up on a spine with a very big drop off on both sides. It is not really that technical of a trail, but it is a real mind freak and the drop offs really mess with your mind.
Here is the gatekeeper where you first climb up to the ridge, once you come up over the first obstacle, there is a very big drop off on the other side (hundreds of feet big), the videos don't do it justice. In this video, the drop off is just feet away on the passenger side, it is mentally exhausting.
Walden Ridge Gatekeeper
After you do this gatekeeper (which does have a bypass), you drop down off the ridge and then have to climb back up over a pretty steep slab. With it being wet, snowing, and no traction, I just winched up the slab to get back onto the actual spline section of the ridge. Once back up you continue down the spline with big drop offs on both sides and then you have to roll off a drop that looks very, very intimidating but actually was not that bad. Having a good spotter really helped!!
Edit - See Post 4 for correct video)
After you come off the spline, the trail continues for quite a while with a few technical features, but it is mostly just trail riding. For the day we did Walden Ridge (Trail 75), then we headed over to try and hit Trail 51 (Panther Rock) but it was log jammed with a bunch of Overlanding type rigs, so we headed up to Trail 50 and then eventually made it back to camp. After dinner we headed back out to hit Trail 15 again, but this day Trail 15 was a little different with the mud now being ice. Within 300 ft we had a Samurai on it's side and then about 50 feet later my jeep was on it's side. I slid down into a very deep ditch and it took out my rear passenger valve stem when I tried to drive it to see if it would right it self the bead quickly broke loose. After winching it somewhat straight and jacking the ass end we were able to install a new valve stem and reseat the bead. We continued to the top successfully making it through the rocky steps but once at the top I noticed my jeep wasn't "sitting" right so I jumped out and found a front upper control arm disconnected. We decided to secure it up out of the way and then to head back to camp which was a wise choice!!
Pic on top of walden ridge>
(unfortunately they don't really show the drop offs on both sides, but believe me they are there!!)
(
Last edited: