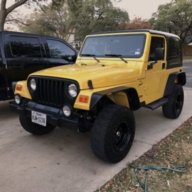 TJ Enthusiast
Supporting Member
Not sure if it's just me or if it's just TJs in general (or at least certain years) but does anyone else's windshield wiper nozzle spray a really pitiful pattern? I'd liken the spray pattern to a squirt gun.

Just for clarification they are pointed right and appear have the right amount of power to them, but they just don't have any coverage and just spray in one spot that measures a grand total of maybe two inches around. Doesn't do me a whole lot of good especially if I need to clear off something on the top of the window, it just smudges.

Any suggestions? Any modifications, third-party or cross-compatible parts that work better? While I'm at it, does anyone have any good recommendation on wipers? The ones I have like to chatter quite a bit on their way down. Thanks!