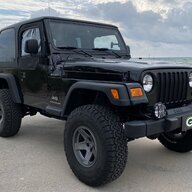 New Member
Supporting Member
Joined

Mar 6, 2023
Messages

16
Location
2004 Jeep TJ Sport 4.0 I-6 Automatic
Jeep TJ Story
I've been handed down my late grandpa Jim's 2004 Jeep TJ with 60,000 miles on it. My dad gave it to me on and off over the last several years to keep it from sitting too long. I've done some minor repairs and maintenance to it over the years. It's been garage kept for most of it's life so in my opinion it's in pretty great condition! No doubt, there were the unavoidable TJ RMS leaks and frame rust, but I've repaired the RMS leak and plan on "restoring" the frame inside and out in the spring following
@Wade
's post (
https://wranglertjforum.com/threads/how-to-clean-your-jeep-wrangler-tj-frame.3249/
)
A couple years back, my dad and I decided we wanted bigger tires for that meaner, rugged look, as I think most novice jeep TJ owners eventually decide to do. We haven't done any off roading yet but would like to find trails in Wisconsin and the Midwest this summer.
So, we decided to have a mechanic put a Rancho RS6503B Sport lift kit on it and got 33x12.50x17 tires/ 17x9.5 Helo wheels put on it. Ever since, I feel the ride has not been great. Some of our symptoms are below, in order of importance to me:
· First and foremost, when shifting from neutral or park to reverse, the jeep physically moves up/down. This didn't happen before the lift I don't remember. Is this due to lack of spacers or brackets that were supplied with the Rancho lift kit?
· When driving over 50 mph, I feel like there is some centrifugal vibration under my seat. Thinking this might be the drive shaft and the lack of a properly installed lift or lack of spacers creating a less than ideal angle?
· The traction is terrible in snow. I attribute this to the super gaudy Atturo mud terrain tires I plan on replacing soon.
· I sometimes hear knocking (presumably metal) sounds when I make turns. Maybe this is caused by improper tire/ wheel size or improper lift installation? No parts seem to have been installed besides the springs, lower control arms front & rear, and shocks. Do I need new sway or track bars?
· Sometimes it feels like I'm sitting in a teacup at Disneyworld. Maybe due to loose suspension? I feel like I'm sliding when making turns. I've installed the two front clamps on the sway bar, but still seems like I slide from behind.
· When braking, the vehicle tends to pull to the right. I believe I'm in need of a brake overhaul and plan going with the kit from Black Magic Brakes. Brakes are original.
With that piled on you all, I come here looking for some help and guidance from the TJ pros on how to get Grandp's TJ back up and riding like it should be and provide recommendations on any of the issues I'm having. I'm handy, but have no background in automotive so struggle with diagnosing things, unless of course there is an obvious bolt missing, crack, leak, etc. I enjoy trying to figure things out and feel super accomplished when I can complete a repair or upgrade.
I look forward to your replies, suggestions, and the wealth of knowledge I know members of this forum have!
Thank you very much!
Last edited: