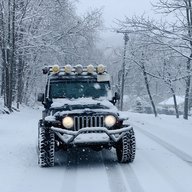 Joined

Aug 20, 2018
Messages

381
Location
Going to try and keep this short. I've dumped a considerable amount of money into this Jeep, and cutting my losses would mean really cutting my losses.
Always used Mopar/OEM whenever I could. I like the idea of knowing what's in the Jeep. I do 80mph down the highway and it's a great daily, but I'm at the point where I can afford to make it more than that if I want to.
While the Jeep wouldn't see much offroad, I'd want it to be capable of doing so. Maybe some light trails at Rausch or AOAA. Some logging roads maybe. An all around adventure rig, really. The one thing I've always questioned, could the frame handle the flex? Spring perches?
Maybe I'm just looking for a story of someone in a similar position that'll give me hope. Or someone to tell me to just get rid of it and find another. Which is where I've been, many many times. I've been told by the fab shop I go to she's not ready to go out to the pasture yet, and that it's probably good to go for a nice lift. I can get more pics tomorrow when I'm not shirtless and the ground is wet for those curious. Thanks for all the comments as usual guys.
Side note, picked up these sliders today for $60. Can't wait to get those painted and on. Works been kicking my ass lately and the weather has sucked. Been hard to get around to everything.