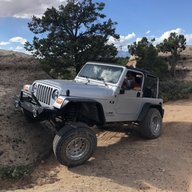 New Member
Supporting Member
Joined

Apr 16, 2019
Messages

19
Location
I'm the type of guy that delves into a subject and reads intensely to better understand it. How are you supposed to get better at something if you don't understand it? With that said though, after reading 15 pages of
@bobthetj03
thread on driveline vibes, I'm a little wary of regearing for larger tires.
Is this a very common issue when it comes to gearing? After seeing his thread and countless others on this forum and others, it's making me reconsider my choice to go to 5.13 from my 3.73.
So, is this something I should be worried about? Or does the internet just amplify unicorn cases?