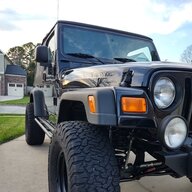 Joined

Nov 25, 2020
Messages

99
Location
Thought it'd be fun to post pictures of your first (or just previous) Jeeps. I was looking through old pictures and found some of my first Jeep TJ and my second Jeep, an XJ.
Bought my first Jeep the summer before my senior year up in Michigan, and my Burger King salary only allowed for a cheap build
. RC Budget boost, 1.25 BL, 33" Duratracs and for the summer a really crappy, leaky, loud $100 soft top from Craigslist. I loved it. But Michigan rust didn't. It made the journey with me to North Carolina though and saw some decent wheeling in Uwharrie.
Second Jeep, my $500 98, 5 speed, 2.5l, 2wd XJ with 234,000 miles, rusted to hell from spending time on the coast. Put some money into it and got a good 3 years out of her. Picked up my now wife in it for our first date! It didn't run when I bought it, needed a distributor, wires and plugs, battery, water pump, and the the EGR delete plate (apparently some 98s didn't have them?) was loose (subsequently it was obnoxiously loud) and handy me put a pair of vice grips on it that lasted the entire time I owned it. Eventually the exhaust manifold cracked in half after a bad bout of death wobble going 75 down the highway and the rust was just too bad. Drove it to a scrapyard where hopefully it's been stripped of what could still be used.
Last edited: