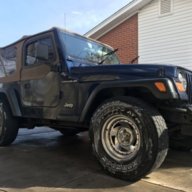 Joined

Jul 16, 2019
Messages

12
Location
Hi everyone! this is my first post here and I posted this question on Reddit, but looks like this is a friendlier and more knowledgeable crowd. I have a few questions before I start working on installing the zone 3" lift kit on my TJ this weekend.
This kit seems pretty complete, has anyone installed this kit and what parts I should get before I start taking everything apart?
Any gotchas you experienced installing this kit or similar 3" lift kits?
I'm also upgrading from 31x10.5r15 to 33x10.5r15, should I get the alignment done before or after the tires to 33"s?
Should I bite the bullet and get new wheels while I'm at it and upgrade the 33x10.5 to 33x12.5?