Hello!
In a small bit of self-realization over the last six months, I've come to the conclusion that I no longer remember everything. So, in an attempt to log my purchases, changes, and repairs, and maybe help others looking to replicate some decisions, I'm starting another build thread. The previous two I started recently are linked in my signature and jump to other forums for a truck I built in high school (and still have) and a daily I'm refreshing/improving.
I've been around Jeeps literally my entire life. When my parent's got married they were a two Jeep family. My dad's '74 (?) CJ5 with a 304 and side pipes and their brand new '83 CJ7 they purchased off the floor room. This CJ would be my mom's daily driver for the next 20 years and where I would spend a lot of time. They used to take the 5 and run rivers down south with a group and would have their own "club" that has since evolved into a camping group. In '93 there was a huge flood in our area and my mom was working late with this in the parking lot. When we went to pick her up, I can remember being able to see a 4' ish triangle of the hardtop sticking out of the water while other cars floated around it. After buying it back from insurance, my dad tore into cleaning it all up and I got to help. Helping to rebuild the carb at about 7 years old. While the Jeep was back on the road, there are still a few things that couldn't be reworked correctly, the dash clock being one. Regardless, the Jeep has been under their ownership since new (even though they've threatened to sell it) and just recently got a mild refresh in new tires and a lifter repair after I purchased my TJ. For those fighting a computerized CJ as this is, I recommend looking into the Nutter bypass.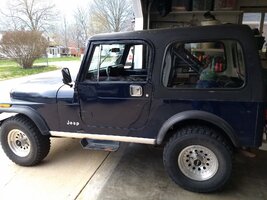 Luckily, I found a Mrs who also comes from a Jeep family, although not to the extents of my familial background, but a win is a win. They've perpetually had at least 3 Jeeps at once, with most being XJs. Not long after we started dating, they purchased an '01 TJ Sport and we'd steal it whenever we could. After we got married, we we're also a two Jeep family in a XJ and ZJ although neither were show stopping. Always wanting an actual CJ or Wrangler to be able to strip it down and have some fun, I was constantly looking. My boss at the time was in the process of building an '03 Sport on to 35's and was constantly bringing up questions as I was the in-house "Jeep guy". As he never kept a vehicle more than a year, he eventually traded it for an '04 Rubicon site unseen. As I was helping him with home audio during his basement remodel, I noticed it sitting in his garage. Pretty clean inside and out, and not an insane amount of miles at 125k, and the biggest thing: unmolested. I told him if he was ever interested in selling to let me know and after a month he was. During the test drive, we noticed some clicking during turns some electrical issues (resistor) and a crazy shake at highway speed. I talked him down from what he wanted and took a gamble on the issues. As this would be my daily at the time with two little ones, my parents tried to talk me out. Once their hypocrisy was noted, I came home with it.