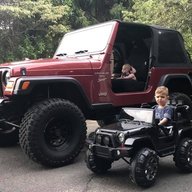 Joined

Aug 9, 2019
Messages

11
Location
First time hello from me. Recently sold my Harley to get into jeeping and the family has been having a blast this summer. I have a thought for some exterior storage for camping, tailgating, etc. and wondering whether anyone else has done something similar to help me think through best approach.

I don't run a spare tire on the tailgate and was thinking I could mount a fixed, rigid molle panel across the outside of the tailgate and could attach tents, bag chairs, a duffle with my frameless soft top, etc. with removable straps when we need the space in the "trunk" of the TJ.

I'm thinking of leaving the spare tire bumpers in place and then securing a panel with bolts and pulling it just tight enough to get just a bit of pressure against the bumpers and use them as isolation to prevent rattling and damage to the paint. This should give me a perfect amount of space behind the panel to fish straps and such through. I care less about this part, but I'm thinking that it might even look good (black powder coated or bedlined panel on my dark red jeep) when nothing is attached to it, or will at least look better than the current tailgate which does not have the spare delete panel in place and looks fine but not great.

Anyone ever done this? Pics or thoughts to share? If you haven't done it, what do you think of the idea - any advice or anything you would think twice about or do a certain way if doing it yourself?

My biggest concern/unanswered question is how best to mount it (remembering i need a gap behind so I can't just screw it on with self tapping screws) without destroying the tailgate and so that if I mount 20-30 pounds or so on there the panel will stay secure. Apprecaite any ideas or advice on this part too!!

Thanks and happy Friday everyone!