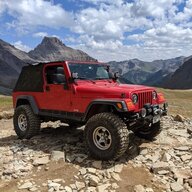 Joined

Sep 26, 2019
Messages

408
Location
At this point I feel like I'm just guessing and throwing parts at it. "Fixing it with my wallet" so to speak. I feel so much less confident diagnosing an engine and modern EFI system than I do brakes or suspension. And I find modding to be much more enjoyable and rewarding than diagnosis and repair.

ASD relay is good
no codes
fuel pressure (and therefore fuel pump relay) is good
No sign of ever having had an immobilizer installed
gauges all operate correctly
Gassy smell coming out of exhaust and plugs smelled strongly of fuel when I took them out, so it seems injectors are firing
New battery (it was 7 years old and not holding voltage up under load)
new Champion 3034 plugs (old ones were super worn and gapped at about .065)
new AC Delco plug wires (because they were halfway off to change the plugs anyway)

I have 120psi of compression on 4 cylinders, but only 60 on cylinder 4 and 90 on cylinder 5...which kinda sucks but I would think it should still at least try to start, and the fact that the condition started literally 5 minutes after it had been running and idling just fine tells me that this probably isn't the problem. All 6 plugs looked normal (maybe a little darker brown, but no significant deposits) and were really consistent in color and wear.

I have spark, though I'm not sure how to tell whether it's strong enough. I used a spark tester and it's sparking but it's pretty dark orange. Not sure if it's supposed to be bright blue, especially when it's jumping like half an inch. So I've got a new Delphi coil coming from Amazon and figure why not grab a cap and rotor while I'm at it, even though I don't see how they could have spontaneously gone from running just fine to no start in 5 minutes.

So it seems like I have everything needed to run, but it's just...not.