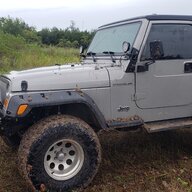 Joined

Jul 19, 2020
Messages

11
Location
Hello all, back after almost exactly 1yr with a new problem with my 4 angry squirrels build.

Before I get started however I'd like to thank you guys for being my go to resource while I've been working on my TJ. The information and knowledge on this forum is incredible.

So, I'm currently getting a clunking, sometimes popping, sound coming from the front left or left center when taking off from a dead stop into first gear (5 speed M). It only happens from a dead stop, only in 1st gear and is gone as soon as the clutch is let out. Sometimes it sounds like its suspension/steering, sometimes it sounds like driveline and occasional I can feel a little something under my feet. I've read through some threads about similar issues but none that appeared to have a resolution.

The issue only started happening after completing the following mods.... Bds 3in lift, adjustable control arms all around, adjustable front/rear track bars, ZJ steering upgrade, sye and cv rear drive shaft.

I've spent 2 days crawling around under the Jeep check bolts, joints etc. and everything looks good. I'm at a loss trying to figure out how to trouble shoot further, hoping you all have some suggestions. It's very disappointing because I was going to take the upgraded rig out wheeling this weekend for the 1st time since I started working on it and now think I should probably resolve this issue first. Oh well.