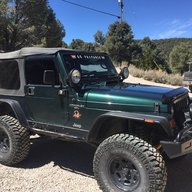 Joined

Jan 19, 2020
Messages

22
Location
After driving my wrangler around for over 15 years with 35's, I've made the decision to lower the jeep from a 4.5 lift to 3.5 springs and go to 33 inch tires.
Just wanted to share my rationale and then thought I'd duck - as I know I'm definitely not swimming with the current
My 17 year old son (newly licensed) will be driving. My wife would kill me if he got hurt.
Never upgraded the brakes (shame on me).
Will keep the 4.5 springs so I can easily go back to 35's
Just wanted to share and see if the group thinks I'm really nuts.