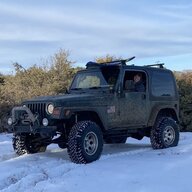 Joined

Nov 15, 2019
Messages

12
Location
I currently have a 99 TJ that does well on fire roads, dirt trails, and glamis, but I can't follow my dads built 79 CJ7 into the rocks in the same manner. In typical Jeep fashion I want more more more. Starting out my Jeep is basically the spare vehicle right now, as I only wheel when I'm able to go home from my duty station in Virginia, so daily driving is not a factor although I'd still want it to be viable enough on road.
Here's a rundown of what it is at right now
1999 TJ sport
4.0L AX15 Dana 30 front (locked)
Dana 44 rear (LSD)
2.5 inch coil lift on 32x11.5 KO2
Currie Antirock front swaybar
4:10 gear ratio
Ive had a rather long time to brainstorm thanks to a rather annoying "Covid mitigation posture" and here's what I am thinking
-1" Savvy MML
-1.25" Savvy Body lift
-JB conversions SSYE
-Some Sort of Oil pan skid plate
-I've seen some things on a tummy tuck but I can't decide what will be best for me
-Dana 44 Front the easiest route is to find one from a 03-06 rubi, but if I do so does that make me committed to the air lockers that they have? I'd personally prefer a lunchbox but I am open to suggestions
-Savvy Mid Arm lift kit
I've heard great things about this setup As the travel would work wonders in the sand dunes of glamis without the draw backs of a long arm kit in the rocks. The kit seems really straightforward and the other threads about it on here elaborate plenty.
-The 4" coils in the kit will do nicely but with the weight of the TJ I'd assume it would be closer to 3.75 inches
-Should I extend my brake lines? I'd rather be safe then suck on a trail with nothing but good intentions
-Something that I am interested in is rear disk brakes, budget concerns say no, but maybe a future upgrade?
- Boosted Tech's Top mount supercharger
More power baby' but seriously this would be a game changing upgrade imo, I am a little lost in the sauce on what exactly I'd have to do to run the kit so if anyone has thoughts or experience with forced induction 4.0L please share (also my dad is interested in supercharging the 95 4.0L in his Jeep)
-1:71:1 Roller rockers
- Now for my biggest dilemma... 33's or 35's for clearance reasons I say 35's but that's a big leap from my current 32's and I'm concerned about being too top heavy. I like 33's because they are more balanced for all around off-road and on road driving.
-Am I missing anything capability wise?
-Body work
I have a poison spyder full cage, and when I put it in I was in highschool ballin on a budget, so it has a truckbed liner base coat for texture and is rattle canned tan matching my interior. This works well but any prolonged rubbing or metal impacts and the paint chips off, so I'll pull it and powder coat it. Is textured powercoating a thing?
I also have to pull the cage to do some much needed dash work (can't access dash with cage installed). Starting off my AC fan selector switch is broken and needs replacing, the front speakers are factory (and horrible), I'd like a new radio so I can listen to my own music without the need of a transmitter, and finally I need to remove my ashtray and extend the rocker panel to incorporate my buggy whip light switch and I'm thinking maybe rock lights (any advice or thread links would be awesome because I can not find exactly how people have done it)
-Finally id like to get a new coat of Forrest metallic green on it as it currently looks a bit rough, how much have people been getting charged for their TJ paint jobs?
That's just about all I can think of for the moment, I made this post for advice and overall brainstorming so please if you have any thoughts I'd love to hear them.
Here's the most current photo I have of my Jeep