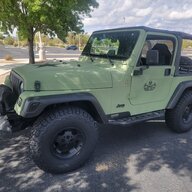 Joined

Sep 24, 2021
Messages

14
Location
I have a problem I didn't find in searching:

I have a 2002 TJ Sport and my dim headlights don't work. The high beams work and stay on when I click to dim beams. I did add LED headlights about four months ago and everything was working OK until recently.

I have checked out all the fuses and replaced the multifunction light switch and pinned out the switch and it is good. Another thing that happened is the hazard lights do not work either. The flasher in the steering column rapidly clicks with no lights when I attempt to turn on the hazards. My turn signals are working ok. I am not sure if these problems are related but it did happen at the same time. My TJ does not have a daylight module on the firewall. I don't believe there is a relay for the high/dim lights as I couldn't find it if it exists.

Has anyone had this before or have suggestions? Thanks.