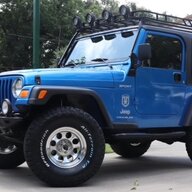 Joined

Sep 8, 2022
Messages

43
Location
stock differential? 2003 sport. I bought his jeep about a year ago and doing maintenance on it. I replace all of the front brakes, calipers, rotors etc. already.
Doing the rear now and mainly find out why the parking (emerg) brake barely holds even though the cable is pulled tight, it holds some rolling backwards but nothing rolling forward.
It has disc brakes in the back with drum type emerg. brakes. Is this a stock set up. When I searched for pads all I see is drum brake pads for 2003 TJ. I'm going to replace the emrg brake shoes but not sure what part number it is. I know it has some upgrades but not sure if the rear axle assemble was changed or modified except for 456 gears.