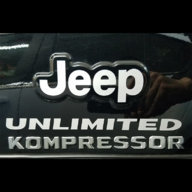 TJ Enthusiast
Supporting Member
Joined

Oct 25, 2018
Messages

342
Location
I have two 85lb German Shepherds that I carry in the back of my TJ Unlimited (LJ to some) and wanted a secure way to carry tools and recovery equipment without taking up any usable space. I bought two of these fat 50 mounting brackets and ammo cans, and bolted the brackets on the sides just in front of the rear roll bar legs. One holds tools and the other recovery stuff. They are padlocked so I don't have to worry about they walking off when I'm parked with the top down, and if I need tools or recovery equipment, I can pick up the whole can and carry it to where it's needed. You can fit a surprising amount of tools, spare parts, and recovery equipment in these two boxes, they are out of the way, and are reasonably secure when I park the Jeep with the top down.
To keep the handles from rattling, below them I added a strip of adhesive backed magnet you can get in a roll at the hardware store. It keeps the handle from rattling, but is easy to lift when you want to carry the box. I also add a little piece of Velcro to the padlock so it would stick to the box to keep it from rattling too.
In my Unlimited, the front of the boxes is about even with the rear seat, on a standard TJ it might make a nice armrest for the rear seat passengers.
In the last picture, you can also see my rear leather seat - I finally found a company that makes leather upholstery (not covers) for TJs - story and pic coming soon.
Two cans and two brackets added up to about $200.
Fat Fifty brackets
on Amazon
Fat Fifty ammo cans
on Quadratec