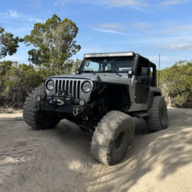 New Member
Supporting Member
Joined

Jun 1, 2021
Messages

22
Location
@CLA
They're unbeatable for the price point. I only switched to OME for there HD springs since I tow a camper trailer from time to time. If I didn't I would've stuck with the Rancho shocks!
@tr21triton
I love them! This is my second set. Got 40k out of the first but I replaced them before they really needed to be and this set has 15k on them and still have decent tread left. I off-road in mainly mud and water crossings (the downside of being in Houston) but occasionally I go out to Austin to do some rock crawling. Once they're aired down they perform really well!
@BC Moto
I haven't had a RC on my truck but a friend has one on his Chevy and says that he likes the ride a lot more than stock. Could be too harsh for a light vehicle like a TJ but fine for heavier truck? a RC rep told me that they using similar valving across some different shocks for different vehicles. Also a lot of trucks don't go through the abuse jeeps do off-road which is potentially why the RC shocks didn't last long for me.