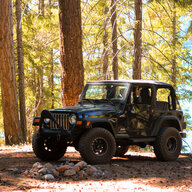 Joined

Sep 26, 2022
Messages

7
Location
Hello everyone,
First time posting here
I have a '04 4.0 w/ nv3550
To get straight to the point, I decided last weekend to tackle changing out my clutch fork, throw-out bearing, flywheel, clutch, and pressure plate all on my own. I'd say I have a 7/10 in mechanical knowledge and skills, enough to get by.
Anyways as I got to the point of pulling off the flywheel, the (from what I assumed) pilot bearing just fell out. From the posts that I have read on here I always assumed you need to do the good ol' bread and punch trick to get them out. This was a
needle bearing
similar to the one in this LuK clutch kit I am using to replace with.
If my research was correct this could've been either a bearing or a bushing but it seems bushings were more common in older models? Either way, is the bearing supposed to just fall out or did I just get myself into a lot more trouble than what I was asking for? Also the new needle bearing slides in with no effort whatsoever, and when I slide the alignment tool in, it feels like it has play to it, like as if the needle bearing is too small for the hole.
Jeep has been down for a week due to cold temps and not having a garage to work out of. At the moment all I have to do is put everything back together and tighten things up on Turkey Day morning but before I do I want to know if the bearing is supposed to just fall out with no resistance.
I will try to add pictures later today, I am currently at work.
Thank you,
Jesus