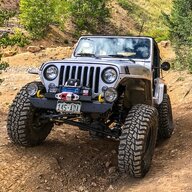 Joined

May 18, 2020
Messages

132
Location
Hi all,
I'm going to be doing a MML very soon and I thought I would ask all you fine folks who have already done this for advice on how to accomplish this task with the least amount of pain. Here are some questions that come to mind:

1. Which MML should I buy? I currently have a M.O.R.E. 1" body lift and I'm looking at both the M.O.R.E. and Brown Dog rubber 1" motor mounts as opposed to the budget spacer type. Recommendations?

2. What is the best method to use to support and raise the motor?

3. What are the common problems that people have run into while performing this mod?

4. Any tips and tricks?

I don't have AC and it looks like I have plenty of room to get to all the motor mount bolts, but I've heard numerous horror stories of people struggling to get this done. I'm hoping that the vast knowledge and experience around here can help this old man out.

Thanks a bunch!