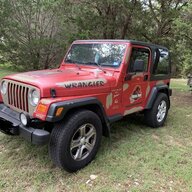 Joined

Oct 15, 2020
Messages

5
Location
2000 4.0 automatic with the 32RH transmission, trans was rebuilt a month ago and the shift from 1st to 2nd is still really rough. I can see the RPMs revving up and it gets really hard to goes forward then it just jumps into the second gear and goes fine from there. I had this same issue before the rebuild and eventually the car wouldn't shift/move at all. Is this just a normal behavior for that trans, is it something with the torque converter, PCM?

Not sure if I just should take it back to the shop under warranty or if there is an easy fix for this. Any help is appreciated.

EDIT: Before the obvious shop topped it off with ATF-4 before I got it back but I checked fluid level while running and in neutral just in case.