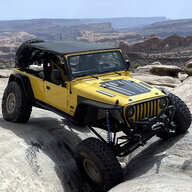 I miss the snow...
Ride of the Month Winner
Lifetime Supporting Member
Joined

Sep 3, 2020
Messages

6,112
Location
UPDATE: This Jeep likes to party!!

We wheeled Dresser WI on Saturday but didn't take any pictures. We wheeled Frontenac Farms in Lake City MN on Sunday and took a lot of pictures.

The leaf sliders are really stable on side hills. Having nothing hanging past the frame rails is awesome for ground clearance. The bald sticky tires do indeed stick to rocks. The new seats hold you in and make for a super comfortable ride.

I had a super fun weekend. I had the most fun wheeling since back when I lived out west.

View attachment 428607 View attachment 428608 View attachment 428609 View attachment 428610 View attachment 428611 View attachment 428612 View attachment 428613 View attachment 428614 View attachment 428615 View attachment 428616 View attachment 428617 View attachment 428618 View attachment 428619 View attachment 428620 View attachment 428621 View attachment 428622 View attachment 428623 View attachment 428624

This last picture was the obstacle that instigated the last 6 months of Jeep projects. What you don't see is the 4' tall undercut rock under my driver front tire. Last fall I tried bumping it hard several times in an attempt to make it up, slamming my driver side leaf hanger into the undercut left tire rock which cracked/bent the frame and tipped the jeep into the rock on the right which caved in my rear tub side. Yesterday I CRAWLED the same obstacle!!

The next small projects

will likely be a quick release steering wheel (it's very tight getting in and out with the tall side bolsters of the new seats) and probably a hydraulic cutting brake setup (the mechanical parking brake dig brake just don't work that well.

The next large project

will definitely be building a legit roll cage (with door bar(s) and harness bars and frame tie ins at A, B, and C pillars. The frame tie ins I have already set in place in .188 wall 1.75" DOM with my combination boat side/body mount design and my shock mounts.

When I build a cage, I am also considering eliminating the factory dash and putting the windshield on quick release pins for visibility when crawling. The cage project might be a little ways out though...I need to balance family time/Jeep projects.

Attached below are some inspiration pictures for reference of the high visibility dash/cage concept I'd like to emulate.

View attachment 428632 View attachment 428633
The rig looks like it is working well. Nice work.