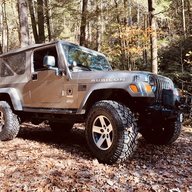 TJ Addict
Supporting Member
Ride of the Month Winner
Joined

May 30, 2017
Messages

1,772
Location
So, on my 06 with a factory soft top. there is a sleeve that slides over that knuckle to keep it straight and true... another cost saving measure by bestop. They also got rid of the door surround knobs and replaces with screws. I been looking for those sleezes to retrofit on my bestop bows. I do see a value in that sleeve.
I dont seem to have the same fitment issues with my 1 year old Bestop Supertop NX, not twill version. Wonder if some if it is either bad quality control on the new fabric tops? I opted for the new hardware option. My stock frame was in great shape, but figured at 18 years old might as well get new. Only real rattle I had to contend with was that sun rider support bar rattling and one of the snaps in the back bow popping out. Bestop sent me a whole new back bar, which I just unscrewed the snap I needed from.
I'll have to see if I can get those soft top sleeves off the old frame without having to completely destroy it in the process.