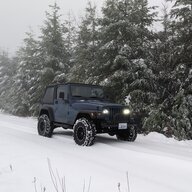 TJ Enthusiast
Supporting Member
Joined

Jun 27, 2023
Messages

436
Location
I've already made a more in depth post about the Jeep we just picked up but wanted to have a place to post updates and pictures (partly for myself!).
Some parts are already arriving and a few repairs and updates will be happening soon and I will post accordingly.
Next week during my days off, I'll be replacing the exhaust manifold, motor mounts, and transmission mount. Also, going to be changing the oil and cleaning everything underneath to keep an eye on a leaking RMS. Might try some AT-205.
And just ordered my first aftermarket "mod" that isn't for a repair, which is some smoked lenses for my marker lights.
Same picture used from other posts because that's all I've taken so far! lol
More to come, though for a while this will be very slow and very basic.