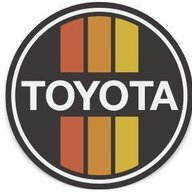 Joined

Dec 28, 2020
Messages

968
Location
I would trust a BL from BMB, looks to be about the same price as the aluminum options out there. Savvy items are getting harder to count on it seems, so we have to look at different options.

I've gone back and forth with doing axles first or last. It's a big expense, so it's a little harder to convince the wife of that so early on. The benefit is that I would be able to start playing around and building more confidence in the Jeep and my abilities. Then, by the time I added everything else, the Jeep would be very capable and I would be able to use it properly. It's a tough decision for sure. That's why I said I'm definitely open to opinions. Yours might be only yours, but as more people share thoughts and opinions, along with continued reading, I can put my plan together.

Heck, I'm even thinking about grabbing a set of disconnects to use between now and a Swayloc. It would be a little bit of a waste of money that I could put towards the SL, but it would also allow me to use the full travel sooner and have longer to save for the SL? Of course there's no single build path
I went with BMB over Savvy for the BL because they were both designed by the same guy, and I only trusted one to arrive on time when I needed it.
As for the sequence, I started in a little bit of a different spot than you. I started with a bone stock TJ and I had the gears and lockers installed fist. Then over the course of the next month, I installed:
Body Lift
Motor Mount Lift
Steering Shaft Riser
T-case Cable Shifter
Rear track bar relocation bracket*
Suspension Lift (springs & shocks, still running OEM CAs)*
Sway-Loc
Wheels & Tires
Winch*
Ancillary items like spare tire snubbers, OEM radio bluetooth integration, AGM battery*, HD battery cables, aux fuse block, etc.
* denotes items reused from previous TJ
I'm currently looking at options for different shocks, and then the next phase is likely tummy tuck and engine skid, which will include CAs, t-case skid, SYE, and driveshaft. After that, I'll consider whether or not I want and/or need a RubiCrawler.
I would have to really think through sequence if I was starting with a Jeep that's already modded, but would still likely go axles first. To me, that's the biggest benefit and has the most impact, both off road and on.
Last edited: