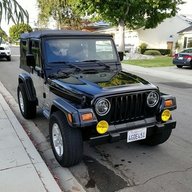 TJ Addict
Supporting Member
Joined

Dec 15, 2018
Messages

1,336
Location
So I'm pretty sure my '99 TJ needs a new AT transmission. It has a 32RH in it. Can I put a 42RLE in it from a 2010 Rubicon? If so, what is involved? And would it be more expensive than having another 32RH installed? Would I need a new console? I've read about the overdrive in town shifting alot - unless you turn the overdrive off. But I don't mind that. As most of my driving is around town. And I could just shut it off. But when I do go on a long trip I wouldn't mind it.

ALso the 42RLE is used with a reported 60k on it. Guy says he took it out because he did a LS2 engine swap in his Rubicon. Does that make sense?

Just trying to find the least expensive option here. I can have it rebuilt for $1200. But I don't have complete confidence in the shop that will do it for that.