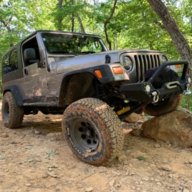 Joined

Aug 24, 2018
Messages

807
Location
Background...
2004 LJ 4.0L automatic
Just put a new ATK engine in the Jeep and there is a significant leak at the OPDA/Cam shaft positioning sensor.
My first assumption was the thin paper gasket wasn't doing it's job so I bought the Mopar one which clearly was a better gasket. I took the top sensor off and took a picture of the position of the OPDA to make sure I got it back the right way. I put the new gasket on and tightened everything down, engine fired right up and ran smoothly. Took it for a spin and it leaks even worse now.
As I examined it I saw that there was oil up the side of the OPDA. I thought that was odd since the gasket is at the base, then I remembered that I saw oil up under the sensor when I pulled it off (but not a lot). My thoughts now are that the actual OPDA is bad and somehow allowing oil to come out of the top and run down the side of it. Is that even possible??

Questions:
- If it is possible for that unit to be the source of the leak what should I replace it with? Dorman? Crown? Mopar?
- I am assuming I got it back in right since it ran smoothly. What does it look/sound/run like if you get this thing off from where it should be? Will it throw a code? I don't want to assume I have it installed right just because it is running smoothly.

Side note, I did order the Mopar camshaft positioning sensor and will be installing that as well.

Any other wisdom would be greatly appreciated. After dropping over $3k on this engine, extra parts and install I'm a little on edge with anything like this coming up.
Last edited: