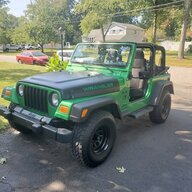 Joined

Aug 31, 2020
Messages

189
Location
Hello all!

So i just noticed today that i have the P0302 code, first check engine code on my TJ it has 61k miles on it. It idols very low and sputters when accelerating but then its perfectly fine when it gets going.

I'm thinking this might be some sort of electrical issue and here's why. I bypassed my clutch safety mechanism on my Jeep about 5 or 6 months ago so i can start it without pushing the clutch in, Now this misfire happened at the exact same time that my clutch safety mechanism failed as in yesterday morning. They are perfectly correlated with one anther. I now have to push in the clutch to start the jeep.

Is it possible that something short circuited (I'm not familiar with electrical work) and some of the fuses on the circuit board got fried? Wonder if anybody has had issues like this before.

I'll replace the fuse after work today and see if anything different happens.