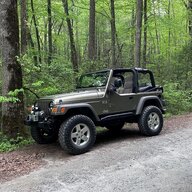 Joined

Feb 8, 2021
Messages

17
Location
After working on upgrading some suspension components all last week I took the TJ (2005 X model with 6M 143k miles) for a test drive yesterday and everything was great. Tried to start it a couple hours later and it turns over freely but doesn't start, there is no sputtering or anything resembling it catching. Then i turn it to the On position i hear (what I only assume is) the fuel pump turn on for a second or two, and again for a second or two when I turn the key off. There is no scent of gas at all. Also the Jeep had been running great and there are currently no error codes. The PO has replaced the fuel pump a year or two ago.

From what I have read it seems that when a CPS goes out there is some sputtering an missing, could the CPS cause the Jeep to abruptly stop running? It currently has over 3/4 tank of gas and I have dropped the tank before (with 1/8 tank of gas) it seems like it would be really difficult with the added 100lbs of fuel so I am hoping that maybe the CPS could be the issue but wanted to get some opinions before I start throwing $ at stuff. Again it drove perfectly for about 15 minutes, then when starting it a while later won't start.

FYI I also replaced the stereo receiver and added a Sound Ordinance 8" powered sub in the center console (all from forum recommendations, so thanks!) but I dont see how that or the suspension changes would effect it, with the exception of maybe the rear adj tracbar since that's in the neighborhood of the fuel lines.

Any feedback is much appreciated.