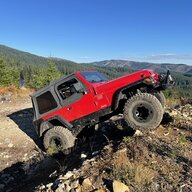 Joined

Jul 25, 2021
Messages

240
Location
Bought the Jeep a while back and have been prioritizing other things, but it's been like this since I got it. The soft uppers contact the windshield frame and make it difficult to close the drivers door specifically.
I have to really slam it shut or it will only latch halfway closed. The top corner used to contact the windshield frame even more than this… it would stick out and not even come close to sealing. I removed the soft upper and bent the forward pin on the frame slightly to help correct it, but it's still difficult to close the door. Feels like lots of spring tension popping the door open if you pay attention at the end of the video.
I believe they are old Bestop uppers and frame, but not 100% sure. It appears they have been on the Jeep for years since the paint is worn at the windshield and where the upper inserts into the lower half door.
The passenger door is only about half this bad, but also has missing paint in the area where the upper contacts the windshield frame. The half doors seem to be aligned correctly at the hinges and latch. No missing paint on the hinge brackets like they've been adjusted ever. Anything I can do to fix this issue? I remember seeing the roll cage might have some adjustability under the foam cover?
Last edited: