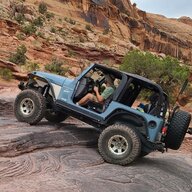 Search Engine Certified Mechanic
Supporting Member
Ride of the Month Winner
Joined

Nov 26, 2019
Messages

2,034
Location
Maybe he can, but he's getting gears shipped in from overseas… if it doesn't get setup right it's not really a quick turn around(or cost effective) to order another set. It would be worth the money and hassle to let someone who does it for a living tackle the job than try to learn a new task he's likely not going to use very often.
Your perspective is a valid way to look at it.
Have you ever taught yourself how to do something only for the satisfaction of learning?