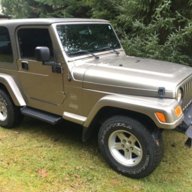 Joined

Jul 5, 2017
Messages

13
Location
Hi, I am looking for a reputable shop in the Snohomish\Monroe Wa area. I posted did ask about shops in my area in the local area section but didn't get any replies so hoping more folks will see it here.

I have a new to me, well...about a year new to me 2004 Sahara that needs a few things done. I took it in to the local Dodge dealer in town to get an O2 sensor replaced and had them do a used car inspection while they were at it. Everything looked good with the exception the front axel u-joints need replacing and there is a very small leak at the rear oil pan or rear seal. There were some other things they said needed fixing, reverse lights were out, estimate was $70 for that ouch. I replaced the blown fuse and all is well there.

The oil leak is really small but I want it fixed anyway. I feel the vibrations from the front end and I do feel play in the u-joints so they seem to be right they need replacing. The quote to do the work for axel u-joints and to do the oil pan gasket and rear seal was right at $1,100. Not sure if that is high but I know dealers tend to be pretty spendy so I was hoping someone form my area may know of a good shop to point me to to get this done for far cheaper..I hope anyway!

I know neither repair is really that hard, they are time consuming but not like rebuilding an engine. I just don't have the time or place do do either of them unfortunately.

I used to take my FJ40 to Olympic 4x4 but they have gone out of business which is a bummer since they were jeep specialists. Would truly appreciate any recommendations on a local shop that does good work on jeeps. Once I get it fixed I can finally start driving the jeep before summer is gone!!