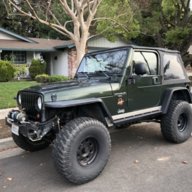 Joined

Dec 3, 2018
Messages

62
Location
Hello all,
I purchased a 1998 TJ Wrangler Sahara edition two months ago and I'm noticing above average clunking and vibration while driving. Additionally, when I shake the parked vehicle I can hear alot of movement from the undercarriage.
In order to address the issue, I'd like to start by replacing the worn lower control arm bushings but I'm having a hard time figuring out exactly what size bushing and heim joint to purchase. It doesn't help that I don't know the brand of the lower control arms as there are no part numbers stamped/etched into them.
I've taken some photos and I'm hoping that one of you guys can enlighten me on the matter.
Also, if it means anything, the previous owner told me he installed a 3.5" Rock Krawler long arm kit but when I perused the "Rock Krawler long arm kit for TJ's" page, I found no control arms that looked remotely close to what is presently installed.
Best,
Dan