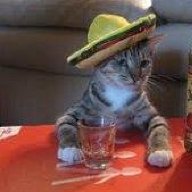 Jack of all trades, master of none
Supporting Member
Joined

Mar 22, 2020
Messages

1,506
Location
Hi all!
Some of you know me from my posts, and some of the NorCal guy know me cuz we've met. And now that the formalities are out of the way, I'm finally gonna start a build thread. ('bout damn time!)
And I've spent a little over a year on the forum askin all kinds of noob questions tryin to learn enough to do what I want without having to un-do it later. That being said, let's get started!
So, I bought this Jeep. I'd sold my '86 K5 Blazer, but still wanted/needed another 4X4, and I thought a Jeep would be fun. Yeah, it's hella fun, I didn't realize expensive too! But that's cool. A man's gotta have a hobby, right?
This is how it sat when I brought it home.
It had a few good things on it, like the wheels. and outside of the PO installed long arm kit, lift, and Teraflex dual rate sway bar was pretty unmolested. I've been considering junking the long arm, but that story's for another time.
So, I spent most of my time and money cleaning, servicing, and repairing all the little things that I thought it needed. You know, oil change, tune up. It desperately needed brakes, so I put a Power Stop Z36 towing brake kit in it, and that helped a lot.
I changed o2 sensors, and it had a misfire code (ha ha) so I spent a lot of time figuring that out. Fixed the stock radio-CD player, cuz that's what I liked. And just generally cleaned it and added little goodies here and there.
First real addition I did was take the spare off the tailgate, and add a swing out spare/bumper combo. I like it, but it's hella heavy. And I got a plan to skeletonize it when I get finished with what I'm doing now. Another story for later.