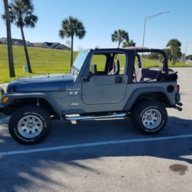 Joined

Jan 29, 2019
Messages

409
Location
My shifter is hard to get out of 1st and 2nd gear after the Jeep has been running for a while. Like its stuck on the first attempt, then I let it go and try again. Second attempt usually works.

I brought it to a transmission guy, he rebuilt it, and said all was good. Which it was, until a few months later when the same problem came back.

Someone mentioned a bushing under the shifter that can go bad. If so, should that have been tackled in the rebuild?

Looking for any insight y'all can provide. Thanks!