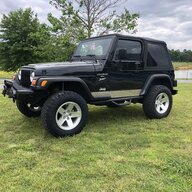 Joined

Feb 9, 2019
Messages

19
Location
Hello everyone, new here.
I'm currently trying out a 2001 TJ. It belongs to a coworker that is as OCD as i am about vehicles.
As i was begining to back out of his shop the engine light came on. He has owned since 2011 and said he'd never seen that light. (I believe him)
My code reader indicates a P0302 & P0305 (very popular I've learned) not sure why these 2?

*Worth noting: I stated the engine and noticed he was having trouble unlocking the rollup door I shut it off so not to fill the shop with exhaust. Within a few seconds the door started up so i restated the engine and that's when the light came on.
I cleared those 2 codes and they reappeared the next time I drove it.
So is the $$chase on or does the 2 and 5 have a common part fix?