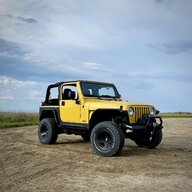 Joined

Nov 13, 2018
Messages

230
Location
I've been spending most of the pandemic wrenching on my Jeep. It's been a silver lining to this whole mess.

This past Christmas my wife expressed her undying love for me with a set of Rancho 5000x shocks...Now, I'm not much of a romantic, but that spoke to my soul. Jeep Parts: The Gift That Keeps On Giving.
Then, I installed them and...ugh.
Man, I don't like them. I'm sure I'll get blasted for that opinion but there it is lol.

The PO had added a set of rubicon express shocks and a BB so I'm guessing I became accused to how those rode. The ranchos just felt too soft to me but I figured I would just deal for a year or so being they were a gift. Not very long after (February?) I was clipped in an intersection and it crunch my rear corner pretty bad. Ended up going with corner guard armor to cover that up. But that, of course, added weight so now the bounce/softness is way more prominent and I like them even less.

I was looking into Bilstein 5100s or maybe the twin tube Fox shocks that BDS offers with their coil springs. Basically I'm hoping there may be a few people on here who run something other than rancho and wouldn't mind sharing what brand and how/why they prefer them.