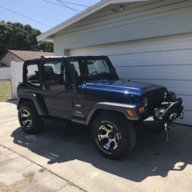 TJ Enthusiast
Supporting Member
So I just signed a contract to have my garage fixed. I have a two car detached garage that backs up to the alley in back of my house. It has a 2 car carport next to it. At some point many years ago apparently an old pipe or something must have burst under this property that runs directly under this garage and my carport. It created a valley in the backyard and under the garage/carport and they are slowly sinking into it.

The cinderblock walls are stair step cracking and the floor in the garage has sunk about 6 inches in the middle. I have been putting off trying to repair it. But it's getting to the point where I'm afraid to park my TJ and my other car in there.

So I have received two different estimates from companies to come out and do the Geo survey. Then put the footers (or whatever the term is) they drill very deep into the soil under the foundation to lift it back up then polyfoam underneath the slab and carport to level them back out and put a water barrier on the outside of the worst wall which leaks water into the garage when it rains so it does not leak anymore.

I was figuring worst case scenario was $10,000. But found out from my two estimates that one was for almost 16,000 and the other one was just a little over 16,000. Got to bite the bullet and do it or one of these days I'm going to find my garage has imploded and my cars are under ground.

And you guys cry about how expensive TJ's are. 1950s houses are even more expensive. Especially in Florida where all the soil is sand.

Thank you for listening to me cry in my soup.