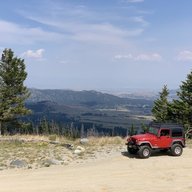 Joined

May 20, 2019
Messages

75
Location
I removed the jugs a while ago but hadn't got around to trimming the bumper until today.
I started by masking the area. I poked out the holes so I'd know where they were relative to my cut line.
Then I used electrical tape to rough out a few options until I found one I liked. This wasn't the best material to use. It's difficult to keep it straight.
45 wasn't quite right.
About 55 looked better.
Then I made some adjustments so that I had measurements I could replicate on the other side. Then I cut the masking tape to give me pattern for chopping the bumper.
Then I took my time with a 4" cutoff wheel.
Removed the tape, cleaned up the edges with a flap disk, and painted the bare metal.
The finicky part was keeping a clean line around the curve on the bottom so that both sides matched.
I'll weld on some metal to box the ends eventually.
I think this took me about an hour. I like the look a lot better.
Last edited: