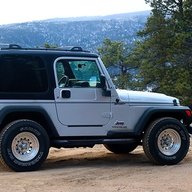 Joined

Dec 19, 2018
Messages

8
Location
Hello!
I got stuck in the snow after ice fishing last Saturday.
The transfer case on my old blazer decided to stop working on the way home. I was only spinning the rear wheels, and didn't have the traction to make it up a steep incline. I slid onto the shoulder into deeper snow and had to wait ~2 hours for a passerby to pull me out. (The "Service AWD" light very helpfully came on later that night)
Two days later I went car shopping and came home with my first Jeep! I don't currently plan to do heavy off-roading, but I just wanted to feel more confident in my vehicle when I head out into the woods on my own.
Found this 2006 4.0L 6 speed standard with only 55k miles.
I've been reading a lot on this forum the last couple of days, I just wanted to say hi to everyone!
Here is the cleanest it may ever look after coming home from the dealer.