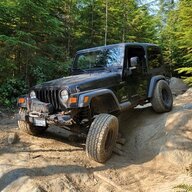 ♪~ ᕕ(ᐛ)ᕗ
Supporting Member
Joined

Oct 2, 2019
Messages

40
Location
I have had the top off for almost 3 weeks now and, although the weather in the PNW has been great, I feel like I don't want to go back to the hard top. It's been an amazing experience. I feel like it is a whole new vehicle. Even driving through heavy rain like we had this past weekend, I have been having so much fun with the Jeep. I feel like I have achieved next level.
I went to Walker Valley ORV and was blown away at the difference in touch and feel. Those obstacles that were intimidating before felt immediately achievable probably because of the visibility and being able to clearly hear everything. Getting all senses (even mouth fulls of mud) involved.
I am learning a lot about how to clean mud out of the cab, which is awesome. So, carpet may be coming out. Doing a lot of digging on rhino lining the interior. This forum has a lot of great information for that, so thanks in advance to all of you! I am also looking into MicroBan marine carpet, but not sure if it's worth it because the surfaces are generally different underneath; steel vs fiberglass. That's probably overthinking it.
The Smitty Built trail mirrors are not meant for the freeway.
I am running the Smitty Built extended bikini. Maybe "top off" is stretching a bit but I wanted to keep the sun off the top of my head.
The Smitty Built cab cover actually keeps the interior drier than the hard top. I have been chasing a leak for some time. Last Saturday, the rain was drenching and the interior stayed dry. I am happy with that cover, so far, since the TJ is parked outside full time.
Lastly, security. My roadside and trail recovery gear is in totes which makes it easy to store those things in the garage. And now that I am putting the cab cover on, it makes it easy for me to remember to, at least, put the roadside kit in the Jeep before I head out. I think the thing that worries me the most is that someone can just hop in and take the parking brake off and pop it into neutral and roll it into some general direction. But that isn't as big as me being bone headed and leaving the key in the ignition! 2 or 3 times now, this has happened. Once at the grocery store. (smh)
Over all, I get it. It's awesome. Thank you!