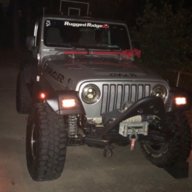 Joined

Jan 20, 2019
Messages

53
Location
So just happened and can't get it to go again.

Drove for about 10 miles, was driving about 45mph in 4th gear, downhill not much gas.

All of a sudden I started hearing a beeping noise. Same noise when you leave parking brake up. Checked parking brake and it was down all the way.

Started to slow down to pull into a parking lot and as I pulled in it stopped.

All gauges were in normal operating range. No dummy lights, other that the airbag light that's been on since I bought the Jeep.

Have driven the Jeep about 40 miles today just running a few errands.

Should I chaulk it up as a 14 year old Jeep gremlin or does anyone know of something to check or keep an eye on?