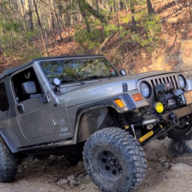 LJ Enthusiast, Retired USAF Weapons Loader
Supporting Member
Joined

Sep 25, 2018
Messages

2,219
Location
Does anyone have a source for a NEW hvac fans speed switch, or a NEW hvac panel for an '06?
I know the '05 & '06 are different and are not available from MOPAR anymore. I'd like to find new if available before a used one.
Fan doesn't blow on all speeds. Just started after I had it out to replace the lights in it. I think it's the switch itself and not the resistor for a few reasons.
1) When first bought the Jeep I had it out and noticed very slight melting of the housing. Not long after that I replaced the blower motor (which I understood to be the problem with the melting).
2) over the last 3 years, sometimes if wouldn't work in various settings, unless you pushed in on the knob.
3) today is the first day I've drove it since replacing the lighting. When I first started it up, it only ran on setting 3. I pulled the unit out and checked it out. The switch is a little loose where it's held together because of the melting. When I put it back together, then in only ran on setting 4.