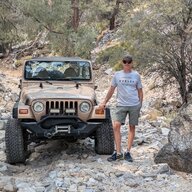 TJ Enthusiast
Supporting Member
Joined

Sep 19, 2022
Messages

414
Location
10% gear change roughly. It's not going to go from a dog to amazing with one gear step. It will of course be an improvement.

I remember having this discussion with you in the past. You might need to do a few things, like check your cats for clogging, adjust the transmission bands, etc. There may be something making yours not drive so great - something more than just 3" larger tires. I would definitely recommend the regear but from how you describe yours driving, I wouldn't expect a 10% regear to fix everything. That said, I wouldn't regear extra deep to make up for it either. I like lower gears than most but I wouldn't want 4.56 on 33's permanently with the 3 speed.

Did you ever use GPS to verify your actual speed and what rpm you're at at each speed? How did you confirm you have 3.73?
I confirmed I had 3.73s when I changed my gear oil a few months ago. I didn't realize that was you I had asked for gearing advice a while back. I think my comments about how much of a dog I thought it was was said out of inexperience driving a TJ on bigger tires. As I've driven it more I've gotten more used to it's driving behavior and while it's no sports car, it can drive comfortably at 70mph, but if I hit a hill on the highway it definitely struggles to hold speed. I did use my phone to confirm my Speedo was accurate.